Aluminium alloy tread plates 3003, 5052, 5083, 5086 and 6061 produced by Haomei are applied for anti-skid construction, vehicles, ships, airplanes, etc. Aluminium tread plate is a non-slip aluminum plate series, which has a large amount of use. The advantages of the aluminum tread plate: the height of the pattern reaches 1.0mm, the anti-slip performance is good, and the surface finish is high, have good decorativeness. The use range of aluminium checkered plate are in vehicles, ships, pedals, hanging baskets and other industries. The thickness of Haomei aluminium tread plate is between 1.0mm-10mm, the width is less than 2200mm, the length is within 10 meters, the common seen specifications are 1220*2440mm.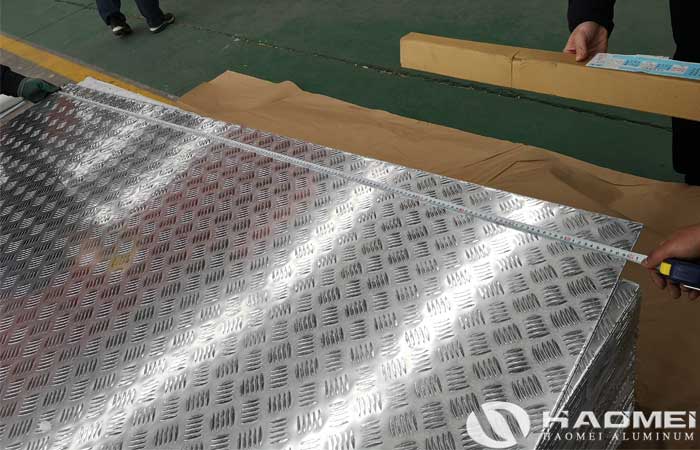 The aluminum tread plate which mainly plays the anti-slip effect, the common used patterns are five bars aluminum tread plates and diamond aluminum plates, which are mainly used for the ground or working platform skid pedals and at the same time, they are widely used in the car and the bottom of the ship. Besides of pure aluminium tread plate, the alloy aluminium tread plates has 300 series, 5000 series and 6000 series.
3xxx series: 3000 series aluminum alloy stands for 3003, 3004 and 3A21. The 3000 series aluminum alloy are mainly composed of manganese. The content is between 1.0 and 1.5, which is a series with better anti-rust function.
5xxx series: 5000 series aluminum alloy represents 5052, 5005, 5083, 5A05 series. The main element is magnesium, and the magnesium content is between 3-5%. The main features are low density, high tensile strength, high elongation and good fatigue strength. Thus we can find that the aluminium alloy tread plates are suitable applied for places that have requirements on anti-rust and anti corrosion.
For Price Plz Contact Wechat: 0086 181 3788 9531
Or Email to nydia@aluminium24.eu