Aluminum tread plate price in Haomei is reasonable, with high performance,fast production and delivery, Haomei aluminum checker plate won great reputation. The alloy of aluminum tread plate are 1060, 3003, 5052, 5754, 5083, 5086 and 6061, the thickness is 0.8-10mm, the width is 1000-1200mm, and the length is under 6000mm, the surface can be mill finish and bright finish. Haomei aluminum chequered plate is widely used in anti-slip function of floor in automobile, vehicles and elevators.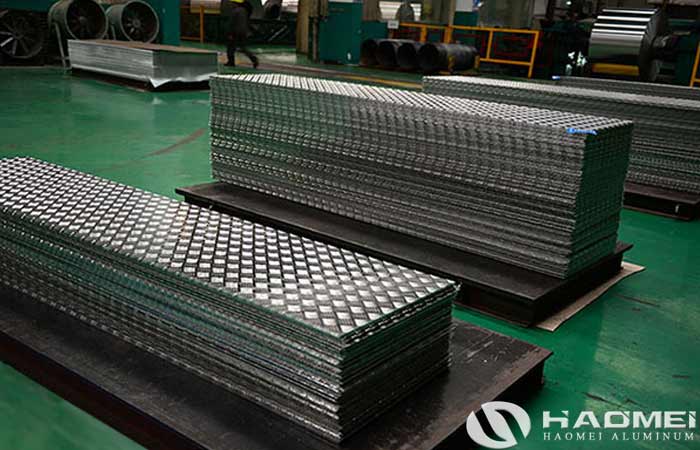 According to the different materials, we can divide the aluminum tread plate into two kinds: pure aluminum tread plate and aluminum alloy tread plate. The price between the two kinds of aluminum tread plates is different. The price of the alloy aluminum tread plate is higher than that of the pure aluminum tread plate. The same high-quality aluminum checker plate is different in price due to different processing. The price of high-quality aluminium tread plate is about 20%-30% higher than that of inferior aluminum chequered plate. When consumers purchase products, if the price of the selected manufacturer is significantly lower than the normal price, we must pay attention.
The aluminum tread plate price is also related with pre-sales and after-sales services. From the beginning of production to the delivery, the high quality aluminum tread plate has to undergo many steps such as packing, loading, transportation, storage and opening. The checkered aluminum plate is inevitable to have defects such as oxidation and scratching. If the enterprise service is good, such a situation will be greatly reduced, even if such problems occur, quality manufacturers or suppliers will provide corresponding return service to avoid consumer losses.
http://www.aluminumhm.com/media/news/aluminum-tread-plate-price.html