Haomei is your trustworthy embossed aluminium sheet supplier with advanced technology, fast production and professional service. The embossed aluminum sheet is actually one type of the aluminum sheet products. The so-called aluminum sheet refers to a rectangular material with a rectangular cross-section and uniform thickness made of pure aluminum or aluminum alloy material through pressure processing. While the stucco embossed aluminum sheet mainly refers to attributed to the product of aluminum with various patterns on the surface after calendering.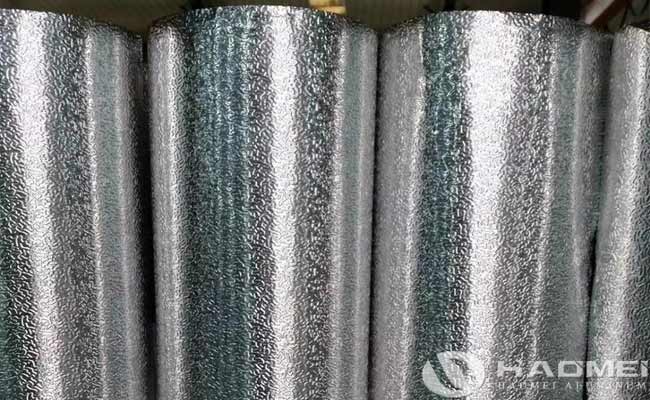 The typical alloy of stucco embossed aluminium sheet are 1060, 3003, 5052, 5754, 6061, 6063, 6082, the temper are: H2, H4, T4, T6, the thickness is 1.2-7.0mm, and the width is 100-1650mm, the length is 500-16000mm. The main application of stucco embossed aluminum sheet are used in refrigerators, refrigerated inner tanks, air conditioners, cold storage, decoration and packaging. Other applications such as lighting, solar reflectors, building exteriors, interior decoration, furniture, cabinets, chemical / oil thermal insulation pipe jacketing, etc. I believe that in the continuous development of technology in the future, the use of embossed aluminum sheets will become more and more widespread.
The features of embossed aluminium sheet are:
1. Durable: High-quality aluminum alloy base material has excellent characteristics such as resistance to deformation and oxidation.
2. Water-proof and oil-proof: Its products mainly use nano-oil-proof paint, so it is easy to take care of and has the characteristics of green and environmental protection.
3. Simple and fashionable: The product features of stucco embossed aluminum sheet have a variety of styles, hundreds of styles, simple but not simple.
4. Achieve fire protection standards: Stucco embossed aluminum has excellent characteristics of durability, safety and environmental protection.
For Price Plz Contact Whatsapp/Wechat: 0086 181 3788 9531
Or Email to nydia@aluminium24.eu