The medical grade aluminium strip for caps has the advantages of smooth and bright surface, stable mechanical properties, accurate dimensional tolerance. The aluminum strip for caps are easy stamping and forming, low ear-making rate after stamping into bottle caps, and good anodizing effect. It is suitable for manufacturing high-end pharmaceutical oral liquid bottles caps. The processed cap material can ensure the yield, and the oxidation effect is good, and the waste can be recycled.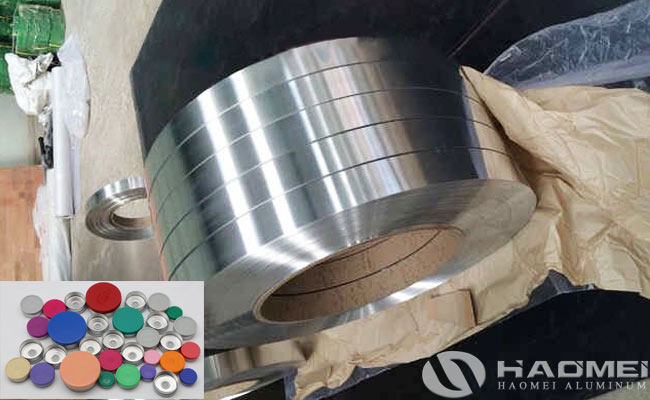 The production process of aluminum caps for medicinal oral liquid bottles is not very complicated. When the aluminum caps are produced, the punching die can be driven by a punch to punch the aluminum strip for caps. The raw material of the aluminum cover is aluminum strip alloy, and different specifications of aluminum cover need to be produced with different specifications of aluminum alloy strip. According to whether the aluminium alloy strip is coated or not, the aluminum cover is divided into three types: ordinary aluminum cover, single-coated aluminum cover and double-coated aluminum cover.
The medical grade aluminium strip for caps with superior performance, received very good feedback from the cooperative customers, to ensure that the product version is flat, the geometric dimension is accurate, at the same time, the surface gloss is high, and the alkaline washing effect is good, which can reach the level a of water brushing experiment. The end face of aluminum strip is flat without parabola, collapse and other defects.
For Price Plz Contact Whatsapp/Wechat: 0086 181 3788 9531
Or Email to nydia@aluminium24.eu